A trike for every rider. Designed for comfort and built to last.

With five different models to choose from, there's a Ti-Trike for virtually every kind of rider. All Ti-Trikes share our same core company design philosophy:  stability, comfort, and safety come first and foremost. Speed, ultra-low weight, and swoopy aerodynamics come in second. The result? A comfortable, great performing ride that's right for any road or trail and ideal for anyone aged 18 through 80.
T-150 and T-250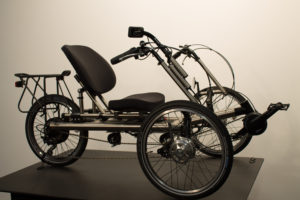 T-350 and T-450
No other material performs like titanium.
At the backbone of every Ti-Trike is our exclusive titanium frame. Born out of the aerospace industry and our work with NASA on mobility equipment, several decades of experience have proven that titanium is the perfect material for a tricycle. For reasons of cost and manufacturing convenience, however, other manufacturers typically build their trikes out of less costly materials like steel or aluminum. Unfortunately, neither one comes close to matching titanium's superior properties when it comes to low weight, ride quality, resiliency, and durability. Neither of these two metals can match titanium's outstanding strength to weight ratio and corrosion resistance. And unlike steel or aluminum, we give our frames a brushed bare metal finish that will never scratch, chip, peel, degrade, or rust over time. To achieve optimum fit and to match up properly with different sized riders, each trike model is available in four different sizes. All are designed to achieve that ideal blend of handling, comfort, and performance. As an added plus, the unique strength of titanium allows us to give a 400 pound load rating (combined rider and equipment weight) for both our T-150 and T-350 models..[space height="10″]
Advanced features.
In addition to our advanced titanium frame, every Ti-Trike comes with the same outstanding set of features. These include:
Easy shifting Shimano gears to handle any terrain
Great handling, derived from a stable yet responsive frame geometry and a low center of gravity
High quality Sturmey Archer drum brakes; fewer adjustments and superior wet weather performance
NASA foam seating with adjustable seat height and seat back angle
Ackerman steering with an integrated steering damper for improved stability and control
Low resistance 20 or 26 inch wheels and tires for easy pedaling
A fully enclosed planetary front gear system that eliminates maintenance and improves safety
Optional rear mounted carrying rack or load bed.[space height="10″]
Adaptive By Design
Ti-Trikes is the very first manufacturer to design trikes that meet the needs of Baby Boomers and those with disabilities. We call this unique approach "Adaptive By Design" or ABD. Throughout our long design and testing process, we've stayed focused on these goals, creating a line of trikes that are easy to pedal, stable, responsive, and comfortable over both short and long distances. Over the years, we've worked with many customers with disabilities, including those with MS, TBI, strokes, Spina Bifida, CP, and balance issues. For these individuals and many others, our trikes deliver fun, freedom, exercise, and an enjoyment of the outdoors in abundance… satisfying rewards that many never dreamed were possible..[space height="10″]