Electric Power Assist: Less effort, greater range

Think of our T-250 trike as a T-150 on steroids. The same great pedaling performance and ride of the T-150, plus a supplemental 37 volt electric motor and battery pack that give new meaning to the word "zip". The T-250 is truly versatile. You can start out on your ride pedaling, then decide half way to let the motor share the work with you with a mere twist of the electric twist grip. With repeated use, your strength, stamina, and fitness will improve, so you might find yourself using the electric assist less and less. Or, you can forgo pedaling altogether and go all-electric. With a lot of battery juice neatly tucked under the seat, performance is sprightly and the average cruising range is 30 miles or more.
Ti-Trikes is the first company in the world to design, develop, and build a power-assisted recumbent tricycle. We did this for one simple reason; to make cycling accessible to a broader range of people. With electric propulsion, riders of all ages, shapes, sizes, and ability levels can now be out on the roads riding along with their friends and family. The T-250's stable trike design combined with power assist make it ideal for people with physical disabilities, including MS, Cerebral Palsy, stroke, and TBI. Ti-Trikes can also help customize your trike with adaptive fittings and accessories, if needed. And Ti-Trikes is one of the few tricycle manufacturers to use expensive NASA foam for its seats. Originally developed by NASA for the space program, NASA foam contains millions of open cells that mold to each person's body to evenly distribute pressure. The result: dramatically reduced back and backside pain….and a lot more comfort.
The T-250 shares many of the same great comfort and performance features with its other Ti-Trike siblings, including a tadpole design, lightweight yet robust titanium frame, smooth running gear system, excellent brakes, and outstanding handling. Steering is stable and responsive at all speeds. The T-250 is available in two different frame sizes (40″ – 42″ wheelbase) to suit almost any sized rider.
T-250 Purchase Price: $5595.00
[divider scroll_text=""][space height="10″]
Don't just take our word for it
Come visit us at either our South Windsor or Simsbury locations for a test ride and find out why we call our trikes

"Three-wheeled freedom machines".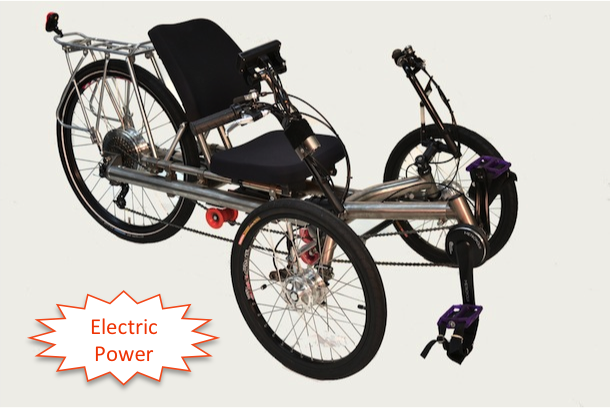 | Component | Description |
| --- | --- |
| Frame | Aerospace grade welded Titanium (Grade 2) with custom machined aluminum rear dropouts. 33" track and available in four different wheelbase lengths (according to rider size): 38" - 40" - 42" - 44". Front boom adjusts up to 5". Width is same on all at 33" CL to CL of front tires. Carrying Load of up to 450 pounds, including rider weight and cargo, based on a 20" rear wheel. 26" rear wheel version is limited to 250 pounds carrying capacity. |
| Electric Motor and Controls | Integrated 500 watt rear wheel hub motor with handlebar-mounted 25 amp speed controller with LCD display. Handlebar-mounted twist grip throttle. |
| Performance | Top speed is 20 mph running solely on electric power. This speed may be increased by pedaling. |
| Cruising Range | In all electric mode, the trike has an average cruising range of 20-25 miles on level ground at an average speed of 15 mph. This range may be extended by pedaling. |
| Battery | 36 volt 14.5 amp-hour Panasonic cell. 4 amp battery charger included. Charging time is 5 hours if the battery is fully discharged. Battery lifespan is 2500 to 3000 charges. |
| Rear Drivetrain | Shimano 9 spd SLX GS. Combines with two speed front gear system for 18 gears in total. 9 speed compatible chain with integrated idler wheels. |
| Front Gearset | Internally geared Patterson planetary bike transmission.Fully enclosed, low maintenance. Equivalent to conventional 28/45 tooth chainrings. Shifts under any conditions, including while pedaling, coasting, or standing still. Improved safety and ground clearance. |
| Brakes | Sturmey Archer X-SD drum brakes, weatherproof, low maintenance. |
| Steering | Ackerman direct steering with integrated hydraulic steering damper. Improves stability while cornering. Handlebars adjust for reach and hand grip rotational angle. |
| Seat | NASA contoured memory foam for improved comfort and durability. Seat fore/aft adjustment = 5". Seatback adjusts 5" depth within a 30º Range, 6" height. |
| Wheels and Tires | 20" front wheels, 20" rear wheel, 36 spokes. 20" wheel has greater torque and is better on hills; also looks better visually on the shorter Trikes. 26" wheel is faster. Equipped with Schwable Marathon tires. Tire inflation is 110 PSI for 20 x 1.50 tire, 100 PSI for 26 x 1.50 tire. |