Heavy-duty Hauler
If the T-150 can be compared to a comfortable and refined sports car, then the T-350 is like its SUV or pickup truck cousin. All the getup and go of the T-150, plus a reinforced wooden rear cargo bed for all your hauling needs. Sharing the same advanced Titanium frame as the T-150, the T-250 adds a new dimension of practicality and versatility. There's no need to get in the car for a trip to the store, the T-350's cargo bed can accommodate four or more full-sized grocery bags with ease. Even with a full load, the ride is still nimble and super stable. And the attractive wooden cargo box makes it look a little like your favorite Chevy stake bed pickup truck from the 1940's. For even more convenience, we added a heavy-duty molded plastic liner to the cargo bed so you can load and unload items in a single step.
There's no end to the uses that customers can find for the T-350; how about using it around town to get to the library, tennis lessons, or the golf course? Or starting up an eco-friendly wine and beer delivery service? Or even using it as campus mail and package delivery vehicle? The possibilities are endless; add a couple of signs to the side and you've got a custom delivery vehicle and rolling billboard.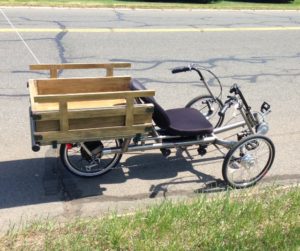 The T-350 shares the very same DNA as its other trike siblings. That means that it's fun to ride, comfortable, and stable, and easy on the legs. Wide-range gearing and sure-stopping brakes mean that it can handle hills and dales with ease. And Ti-Trike's unique tadpole Titanium frame and high grade components is your assurance of years of dependable service and riding enjoyment. As with all our other trikes, its also made right here in the USA.
| Component | Description |
| --- | --- |
| Frame | Aerospace grade welded Titanium (Grade 2) with custom machined aluminum rear dropouts. 33" track and available in four different wheelbase lengths (according to rider size): 38" - 40" - 42" - 44". Front boom adjusts up to 5". Width is same on all at 33" CL to CL of front tires. |
| Cargo Bed | Measures 22.5" W x 28.5" L. Reinforced wood side rails. Optional heavy duty removable plastic carrying tray. |
| Carrying Load | Up to 450 pounds, including rider weight and cargo, based on a 20" rear wheel. 26" rear wheel version is limited to 250 pounds carrying capacity. |
| Rear Drivetrain | Shimano 9 spd SLX GS. Combines with two speed front gear system for 18 gears in total. 9 speed compatible chain with integrated idler wheels. |
| Front Gearset | Internally geared Patterson planetary bike transmission.Fully enclosed, low maintenance. Equivalent to conventional 28/45 tooth chainrings. Shifts under any conditions, including while pedaling, coasting, or standing still. Improved safety and ground clearance. |
| Brakes | Sturmey Archer X-SD drum brakes, weatherproof, low maintenance. |
| Steering | Ackerman direct steering with integrated hydraulic steering damper. Improves stability while cornering. |
| Seat | NASA contoured memory foam for improved comfort and durability. Seat fore/aft adjustment = 5". Seatback adjusts 5" depth within a 30º Range, 6" height. |
| Wheels and Tires | 20" front wheels, 20" rear wheel, 36 spokes. 20" wheel has greater torque and is better on hills; also looks better visually on the shorter Trikes. 26" wheel is faster. Equipped with durable Schwalbe Marathon tires. Tire inflation is 110 PSI for 20 x 1.50 tire, 100 PSI for 26 x 1.50 tire. |